Inspired by Ryukyusoul's entry
In Just SIX Questions...
, I took the test. See my results below. Gee, am I that bad?
However I have to say, I'm honored.
Issac Asimov
was one of my favorite authors during my late teens and early twenties. Just going through his
list
of writings to remember what I read reminded me what a prolific writer he was. Most people know of him as a science fiction writer, and to think that he
started out as a biochemist
.
Here's a paultry list of what I read:
FICTION


Science Fiction Novels
Pebble In The Sky
Foundation
Second Foundation
Foundation's Edge
Science Fiction Short Stories and Short Story Collections
Nightfall and Other Stories
The Early Asimov or, Eleven Years of Trying
Anthologies (Edited by Isaac Asimov)
The Hugo Winners



NONFICTION


Biology
The Human Body: Its Structure and Operation
Literature
Asimov's Guide To Shakespeare, Volume I
Asimov's Guide To Shakespeare, Volume II
Notable of what I learned from
The Human Body: Its Structure and Operation
is that mammals have seven neck bones and birds have 14. He contrasted that point by saying that a sparrow has better neck mobility that a giraffe. Fascinating imagery, isn't it?
---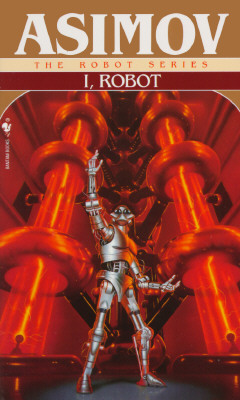 You're I, Robot!

by Isaac Asimov

While you have established a code of conduct for many generations to
follow, your demeanor is rather cold and calculating. Brought up to serve humans, you
have promised never to harm them, to follow orders, and to protect yourself. Living up
to this code has proved challenging and sometimes even drives you mad. If you were a
type of paper, you would be pulp.


Take the Book Quiz
at the Blue Pyramid.